Camping at the farm SVR camping Neumuhle Luxembourg.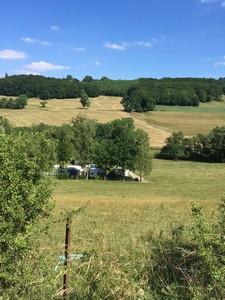 Free Recreation Foundation. SVR camping in Luxembourg, Camping at the farm, for friendly rates of SVR as you are used to. Camping Neumuhle with over 100 places a friendly little campsite in the middle of Luxembourg where life is good.
SVR Camping Neumuhle where one can affordable camping or caravan, summerhouse or log cabin and can rent. A nice playground for children, swimming pool, bistro, canteen, vast building are just a few examples of what Neumuhle camp has to offer.
You will get as a donor of the SVR 10% discount. Throughout the season. (Only on presentation of a valid proof)
SVR donor off season 13 EUR p / d, 4A, 2 people, dog, incl ecotax, 1 hour internet (1X) 6 amperes available at the campsite.
More and more holidaymakers searching for their holiday a residence in a rural area. The tranquility of the countryside and the contact with farm life and the animals on the farm is widely preferred to stay on the big, impersonal and commercial campgrounds.
BECOME a DONATE
Addresses of the SVR affiliated site listed on this website, but can also be requested on the basis of the SVR place names. These are completely free of charge to SVR donors.
The above may be a reason to donate, but of course you are also welcome to donate, if you want to support the Foundation, without immediately making use of its services. The annual donation bedraag least 10.00 euros for the whole family, groups, associations, etc. pay at least 20,00 euro per year. Donate to you through this website. You can place a giro applications or your contribution will immediately create INGnummer 2166100 att Free Recreation Foundation to Meerkerk.
For those who have an eye for Luxembourg offers beautiful scenic pictures. The starting point for walks and day trips throughout Luxembourg. Where the stark landscape of the Ardennes passes in the rolling of the "Gutland" and "Little Switzerland", is our campsite in the heart of the Grand Duchy. Everywhere beautiful nature, lively towns and medieval castles. As in Larochette, a fortress town surrounded by a beautiful walking area. From the campsite in the vicinity plenty to see. Here as an example a deer. The photo was taken from the camp by a camper. The campsite is situated around the green so there are beautiful views. Camping Neumuhle offers peace and relaxation.