Camping Neumuhle Luxembourg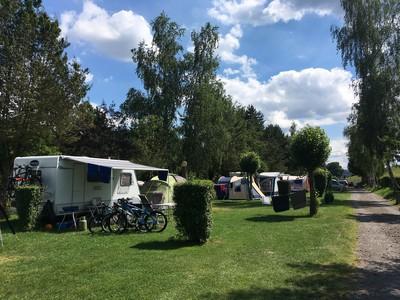 Near the town of Diekirch in Ermsdorf. The Mullerthal offers beautiful rock formations and views. Camping in an area that is not for nothing called Little Switzerland. It is wonderful hiking on marked trails. What prevails is the beautiful green of the hills and the calm surroundings area.
Neumuhle is a terraced camping that wil give you a wonderful view of the surroundings. Along the edge and the "bottom square" is a stream with a small waterfall. In summer the children play in the river. The pitches are spacious and equipped with electricity. We are an inexpensive, 4 star campsite where it is pleasant camping.
With its central location, day trips to many tourist attractions and theme parks are possible in Luxembourg, Belgium, Germany and France. Some possible trips are, city of Luxembourg, Trier, Echternach, Bastogne, war museum in Diekirch, Maginot Line, several shopping centers, indoor swimming pool in Mersch, copper Museum in Rumelange, children's play park Eifelpark, div. kart tracks, survival job in Vianden, magnificent castles route, etc.
It's beautiful walking in the area. The long distance footpath GR5 (North Sea - Riviëra) runs close. There are several marked walks in the immediate area, maps of the routes of the Mullerthal Trail are available at the reception. Mullerthal Little Switzerland and hiking areas are eminently with beautiful rocks, castles, many animal and plant species and every season is different. Also for the now hugely popular geocaching Neumuhle is a great starting point. There are many sites with about this walks.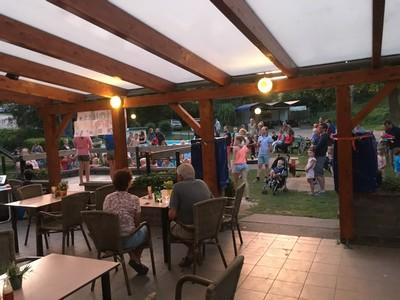 In the Camping Neumuhle bistro it is possible to eat good food for friendly prices. It is also possible to pick up chips and snacks. In our cafeteria with terrace, you can be assured the whole year with pleasant hours combined whith a drink or a snack. The present shop is ideal for your daily bread handling and small purchases.
At the campsite also wireless internet available. With WIFI you have your laptop, PDA or smartphone quick and easy the Internet, check e-mails and possibly your company intranet. The wifi ticket is in the reception / shop.
A large and bright toilet block with free hot showers are at your service. Baby showers, washing machine and dryer are also provided. Camping Neumuhle have a pool of 10 by 5 meters deep and 1.25. Here you can enjoy refreshment or a swim during hot days. For a tough day at the campsite you hire a real Trek mountain bike. Discover the Mullerthal. Also take a look at our mountainbike page.
In the canteen is a big screen TV where many sports, football, Tour de France, etc. can be viewed.
For your motorcycle holiday Camping Neumuhle is ideally located in the center of Luxembourg in the beautiful Mullerthal. From here you can take day trips to France, Germany, Belgium and Luxembourg. Group or individually we have a place for you. No tent, no problem we rent cabins (4 persons, 2 bunk beds), mobile home or chalet.
Link to more engine friendly occasions motorvakantie.ws