Outdoor swimming pool at the campsite Neumhule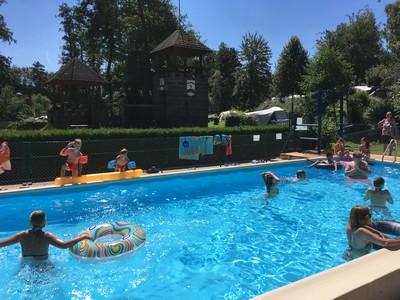 Are you looking for a campsite in Luxembourg with a swimming pool? How about Camping Neumühle in beautiful Luxembourg? Camping Neumühle has an outdoor pool.
The pool of 10 by 5 meters is only 1.25 meters deep and therefore safe for the children to play. The children can spend hours in the water during the summer.
The swimming pool is located next to the playground and next to the terrace of the bistro. So the children can enjoy the water, while the parents enjoy a drink on the terrace. On the terrace of our bistro you can enjoy not only a drink, but also snacks and meals. In the meantime, you can watch the children playing in the outdoor pool.
If you're a real swimmer, swim in the pool and swim. The pool is open from May to the end of August.