Mullerthal Trail as the main path of the regionMüllerthal – Luxembourgs Klein Zwitserland
The nearly 110 km long Mullerthal Trail walking is the highest level consisting of 3 routes. Route 1 and Route 2 run through the town of Echternach, known as a cultural and tourist center of the region. Camping Neumuhle is located on the edge of Route 3 in the town Ermsdorf. For a scenic walk along the campsite click here.
The three routes of the Mullerthal Trail each have their own character walking:
Route 1 connects cultural features with the distinctive landscape of the region: rocks, woods and meadows
Route 2 goes through the heart of Luxembourg's Little Switzerland and takes the walker along the spectacular rock formations
Route 3 offers while walking beside the beautiful rocks stream valleys and romantic castles.
The trails are connected but can also be explored individually. Begin the routes may also be from the campsite and in the various villages of the region, therefore it is possible that walks through each individual can be composed.
It's beautiful walks in the area. The long distance footpath GR5 (North Sea - Riviëra) runs close. There are several marked walks in the immediate area, maps of the routes of the Mullerthal trail are available at the reception. Mullerthal Little Switzerland and hiking areas are eminently with beautiful rocks, castles, many animal and plant species and every season is different.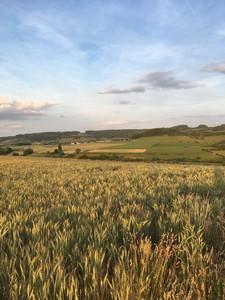 The Mullerthal Trail is further supplemented by three shorter routes, which is also very attractive trails are. They are walking as walking boot or in addition, if the other routes are already gone. The overall mark of Mullerthal Trail and the additional routes offer a high degree of comfort and security so no unexpected surprises arise.
The Mullerthal Trail takes you to more beautiful viewpoints and to both natural as well as cultural particularities. There is plenty of variety for everyone during the walk. And the beautiful rock formations invite obviously out to climb, explore and admire, so the walks suitable for families with children. Whoever with (small) children underway but must pay attention to their safety because the rocks are not everywhere fences protected.
The above link is to a GPS walk around camp Neumuhle in Ermsdorf. (Thanks to Bartje)