Camping Key Europe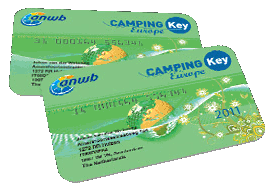 A second function is that of discount card. One where both the camper and the camp to their advantage to do.
Above all, the Camping Key Europe an identity. A passport, you no longer need and enroll at a campsite is easy because all your data are both printed digitally on the map. At campsites that use this system, which saves a lot of time
to check. Moreover, you do not have to give your passport!
So cardholders can always count on a reasonable price at campgrounds affiliated to the Camping Key Europe. Whether you are a green, personal card or a yellow paper copy, the neighbor's never been cheaper. The site administrator determines what the price is and always during which the offer is valid. And that may be the whole year, even in high season when the campsite offers it. Who rented accommodation or travel with a motorhome, may also benefit from this attractive discounts. Camping can offer a discount for them.
Camping Key Europe
Also campsite owners are benefiting from the Camping Key Europe. For them, participation is free. They reached via campingkeyeurope.com and a brochure one million potential customers for free. Chances are that this number is growing, because probably go in the short term, in addition to the ANWB and ADAC, more partners in the camping industry join this initiative. These are all partners that the administrator assurance that his guests are members of a reliable club. A nice idea.
Guarantees talked about. An important aspect has not been addressed: the Camping Key provides holidaymakers with a green, personalized card liability. That insurance is valid while they at the campsite bivouac. So if there is a ball at the campsite wrong occurs, the damage is covered. Everywhere. At that sheltered spot along the Rhone, in the Spanish playa and on the banks of the Swedish lake. Thus, the Camping Key Europe certainty and confidence to all parties.
Benefits
discounts and offer over 1600 european campings
Liability hassle
Benefits across Europe

discounts on ferries, and toll roads - bridges
Adventure & experience - museums, amusement parks, zoos, etc.
Food & Drink - from fast food to exlusive
Shopping
of everything - car repair, insurance, fuel, etc.

Identification - quick check in checkout without handing passport *

* Please note that local authorities from countries within the Schengen Convention in some parts of Europe sometimes require a passport

FAQs
Q: Where can I purchase the cards
A: The card is available from 1 January 2012
Q: Where can I buy the card?
A: The card is by automobile clubs, caravan club or through selected campsite and camping organizations sold. Including via the Internet at www.campingkeyeurope.com.