Good equipment for a nice camping holiday in Luxembourg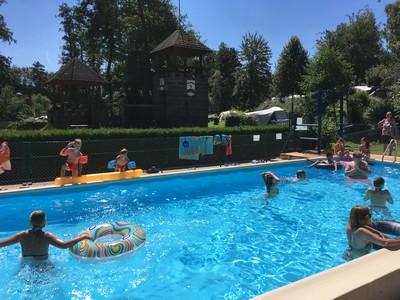 In the bistro of the campsite Neumühle it is possible to eat well at reasonable prices. It is also possible to get chips and snacks.
In our cafeteria with terrace you can look forward year-round to cozy hours with a drink or a snack. In the canteen there is a large TV, where you can watch the many sports games, football, Tour de France and so on.
This shop is ideal for your daily bread processing and small purchases.
A refreshing dive in our swimming pool
At the campsite Neumühle there is a pool of 10 by 5 meters and 1.25 meters deep. Here you can refresh yourself or swim a little on hot days.
Wireless internet is also available at the campsite
With WIFI, you can quickly and easily access the Internet, your e-mails and, if necessary, your company's intranet with your laptop, PDA or smartphone. The Wi-Fi ticket is available at the reception.
Good sanitary facilities at the campsite
A large and bright sanitary building with free hot showers is at your disposal. Baby showers, washing machine and dryer are of course also available.
Marked green places
The green squares are bordered by trees, hedges and on a slope or at Benedenplein by the stream. There is a kind of shadow in every place. There is a tap all 5 places. 6 amps 230 volts are possible at all locations. You have to bring an extension cable yourself. The black blocks on the floor plan indicate the electrical cabinets.